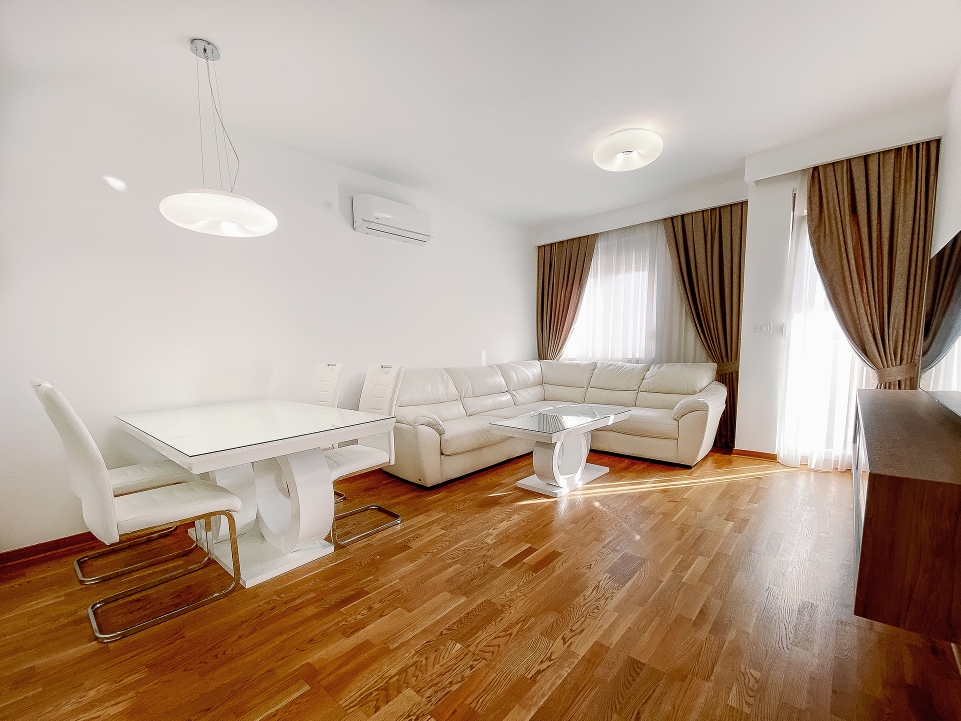 Listing ID: EPMRE0011
Two bedroom apartment 65sqm for sale in the most sought after neighborhood
(City Key) which is located along the river Morača in Podgorica,
The apartment is located on the 6th floor
(from 9 floors)
it is oriented to the east and has a lasting and clean view that no one can hide
The apartment is bathed in the sun and full of positive energy
The buildings are built of high quality materials.
The inner walls are made of gutter blocks d = 20cm,
in the living and bedrooms the floor is made of three-layer parquet type Tarkett – brushed oak,
ceramic tiles that are installed in the bathroom and kitchen are class I, and it is about Spanish and Italian ceramics.
A 10 cm thick styrofoam thermal insulation system is placed on the outer wall.
This type of facade provides an indoor climate that suits every season: warm in winter and fresh in summer, and in addition provides a perfect wall finish and excellent resistance to cracking.
Structure: Hallway,
living room with dining area, kitchen,
two bedrooms,
bathroom, toilet, terrace.
The apartment is habitable and the ownership is 1/1
I additionally did everything, (bathroom and toilet), lighting, High Gloss Kitchen, custom closets made of the highest quality Mdf materials, opening of all touch drawers, plaster curtains in all rooms, Italian curtains, a set of new TV equipment, latest generation, microwave  , stove, refrigerator, washing machine and dishwasher (unused),
Italian leather sofa, comfortable bed in the bedroom with a high mattress,
chests of drawers in the bathroom and toilets with marble tiles and everything done designer and custom made of chests of drawers through closets, TV chests of drawers to the kitchen so that everything can be seen in photos and video.
The whole apartment is additionally painted with acrylic white paint so that every detail is brought to perfection and half a year is spent on tidying up so that the future buyer only needs to bring personal belongings and can live in this exceptionally luxuriously equipped apartment on the same day.
Property Features
Apartment/Penthouse
2 bed
2 bath
Floor Area is 65 m²