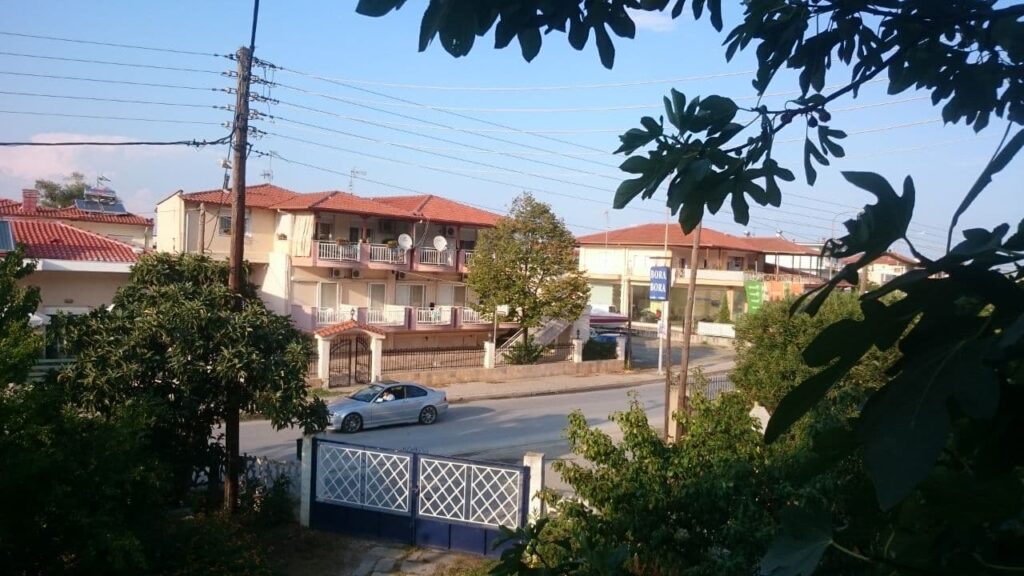 Listing ID: EPPRIV0006
Look no further for the opportunity to own a villa in one of the most desirable areas of Greece with the sea only 200 metres from property.
On the upper floor of the house, which covers 100 sqm, there are two bedrooms, a dining room that can also be used as a bedroom, a living room with fireplace that has direct access to the kitchen, which can be opened as desired, as well as a bathroom with separate bathtub and shower and a large hallway.
The two balconies are located at the front and back of the house. The front balcony still extends over one side of the house. One of the balconies is directly accessible from each room.
The upper floor is centrally heated by a wood heating system. In addition, there are two air conditioning units in the flat – in one bedroom and the kitchen. Hot water is provided by the solar thermal system on the roof.
On the ground floor, which is also 100 sqm and partly in need of renovation, there are three rooms that can be used as bedrooms, an eat-in kitchen, a bathroom with shower, office (not in need of renovation with separate entrance from the outside as well as a door to the hallway) and a boiler room where wood can also be stored.
Downstairs there is a front and a back terrace to which one has access from every room (except the bathroom).
There is a front door on both floors.
At the top there is a bathroom with WC, a room with access to the roof, which is partly separated so that it can be made into two rooms. In one part there is a boiler and the other part can be used as a storeroom, for example.
The garden is lovingly and generously landscaped, with various trees (including fig trees) as well as shrubs, a small pond and several seating areas that are shaded for long periods.
In summer, this is a green paradise. At the back of the garden wall, there is a section that is covered and can be used as a wood storage area. The garden also offers enough space to grow vegetables.
There are several parking spaces on the property.
The property is very centrally located. It is located on the main road leading in one direction to Olympiada and in the other direction to the federal road 2. Vrasna and Asprovalta as well as the motorway connection to Thessaloniki can be reached quickly via the main road.
Shops for daily needs, a bakery, a DIY shop, a toy shop, a Cosmote branch, cafés and a bus stop are within walking distance.
The sea is only a five-minute walk away (approx. 280 metres).
This is a private advert, please enquire for contact details.
Property Features
House
4 bed
3 bath
Land is 900 m²
Floor Area is 200 m²
Business potential
Character property
Detached
Near the Sea
Air conditioning
Central Heating
Balcony
Barns/outbuildings
Private parking